there is always a card sketch
and by now you know I love doing them.
As there is always a demand for baby cards,
I choose to use a much loved set (by me)
called Oh, Baby! from 2008.
Love the stamps and I still have some
of the papersand even the ribbon is from that
special, edition. You can see some of the
images on the ALSB instructions here:
The cute little animals are the rubber stamps.
Each image has something colored with pencil.
I cut them out by hand.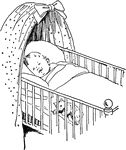 Have a creative day!