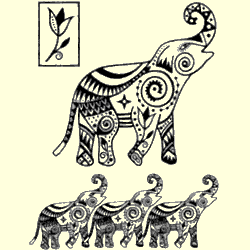 Don't you love elephants?
Well if you do, see what I have come up with.
I have made an irisfolding and stamping card for you.
On top of the card you see how I cut out the large elephant
and used it as a template for irisfolding.
You find the template below:
Save this template with the right mouse click
to your own computer and print to use it.
Here you see the finished irisfolding again.
Where it says A and B on the template, I used a large
strip of paper to cover the paws and the tail.
You can do this with a contrasting color if you like.
If you have never done any irisfolding, or
need a refresh course take a look here for my tutorial:
The botom of the card is with the little elephants,
stamped in versamark and embossed with copper
embossing powder. Around the border of the card
I stamped the flower in vintage distress ink.
Here an other sample with irisfolding.
Stamped in black on one side of the card
and in irisfolding technique on the other side.