This week the theme is: "Something New"
at the Weekly Chronicles of Club Scrap.
So something new for me is I have started running
this week and I intend to keep on doing it.
My DD and my DH help me along this week.
I used :
The black chip letters came with the kit.
The strip also and i made it into this banner.
The paisley stamps are stamped in versamark
and embossed in metalic orange
and decorated with sticky glitter gemstones.
The little ribbons on the side of the
picture also cae with the kit and are fastned
with a staple.
PS.don't forget our Club Scrap Blog hop
on August 28 on the Tribal Kit.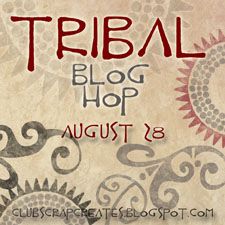 Have a creative day!